Possm - Large
Available now! Holidays are coming soon. Best stocking stuffer ever made!!
This is for you +size guys and gals. Fat bike friendly and optimized to carry the extra rubber and air needed to get a fatty outta the woods or snow bank and you back to the pub. Set up for a 3.0 tube, 3 25g CO2's and still get the multitool*, levers, etc under the seat.  More can be stuffed in somewhere if needed, done it. 
Only weighs 82g 
patent pending
*TUBES AND STUFF NOT INCLUDED 

* fits compact multitool (75mm x 55mm x 12mm)

**When using with a dropper post please check for clearance before mounting the Possm. Although it works well with most dropper setups, some smaller frames and geometries cause the Possm to rub the tire when under full compression with the saddle dropped. Since there are endless sizes and geometries out there it is up to you to check clearance first. If the tire occupies the space under the seat when compressed this space is not available for storage. Its a law of physics, two things cannot occupy the same space at the same time, The Pauli Exclusion Principle, or something like that,  but I'm not going there.

---
More from this collection
$38.95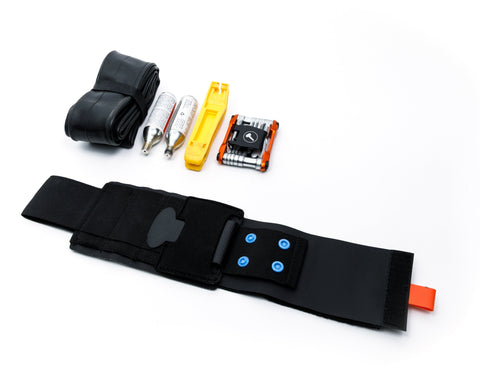 $38.95